We bring a personal approach to your job.  We don't  just sell you everything we can – we find solutions for what you need, in YOUR budget.  We are not a high volume, hard-sell company.  I want to listen to what you need, and work from that starting point.  We have many vendors and trades to fit any budget.  No job is too big or too small.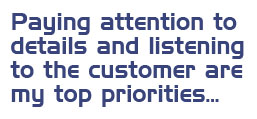 We strive for complete customer satisfaction from start to finish.  I will treat your job as if it is my own home.  Paying attention to details and listening to the customer are my top priorities.  I want you to be so satisfied with your job that you would happily refer us to friends and family….
With more than 26 years of experience building new homes and remodeling existing ones, I have learned many lessons.  But, they all boil down to this:  People Before Project.  I have learned to listen, and really find out what peoples' needs are…  what's important to them. This personal attention to detail is what my business is built on. Relationships.
People Before Project
We can handle any construction or remodeling job – but connecting with our customers and delivering unmatched customer service is the foundation of our business. Asking someone into your home to remodel or renovate is a risky venture that requires trust, so we strive to go above and beyond and provide the highest level of service possible.