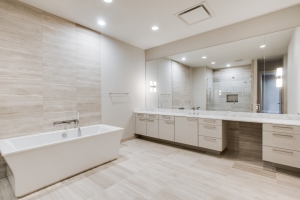 My name is Brandon Blake. I have been in the construction business all my life.  From as far back as I can remember, I was sweeping up sawdust and learning to run the jigsaw in the woodshop.  My father was a shop teacher, back before it was called industrial arts. We had a full woodshop at my home, and I learned the basics of running every machine in the shop from a very young age. This training in my formative years translated into a home repair business – Blake and Sons home repair.  I worked after school with my father and brother and we did any and all home remodeling. Shingles, house painting, framing, sheetrock; we did it all.
I moved on to college at Texas A&M, coming home on breaks and summers to work at the family business.  It was hard work, but for a college student, the money was good.  After college, I knocked around at a few sales jobs, but it always came back to construction.  I took a job with a national homebuilder Lennar Homes.  It was a perfect fit. I started out as a service manager, and quickly moved into their quality assurance program. I learned their system.  Shortly after that I became a homebuilder for Lennar. Lennar was a giant machine that discouraged any interaction with the client, which was extremely frustrating.  After 4 years with Lennar, I was offered a job with Darling homes, which was a great step up. But, it also began the long, strange trip through working with many homebuilders.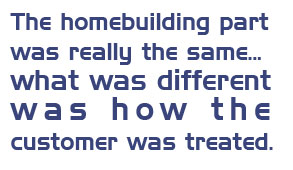 I worked for a number of builders after Darling: Grand homes, Renaissance Homes, Zachary Custom Builders, and finally Clark and Associates.  I had good and bad experiences with all of them. Bosses got fired. Some builders went out of business. I learned many lessons and observed many different management styles.  The homebuilding part was really the same, what was different was how the customer was treated.
For 6 years, I had the opportunity to build really magnificent homes and work with amazing designers, architects and clients.  We built homes in the M-streets area and Forest Hills in Dallas…  We were able to build peoples' dream houses… We worked with some of the best vendors in Dallas…  It was an incredible experience, and a lot of fun.  Working for a small custom builder was great, due to the level of personal interaction with the clients.  Building trust and building a relationship – this is where it all clicked for me. I really enjoyed working with people, establishing trust, and a lasting relationship.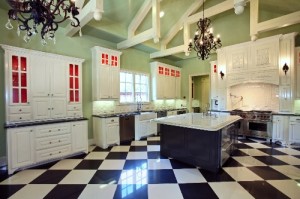 So, that is where I am today – running a business that is founded in relationships and trust.  You are not a number to me, you are a valued client. And I hope I'm not just another builder to you – I want to be one that you would refer to your friends and family. I take a great deal of pride in what I do and I want that to show every day.  After building hundreds of homes and hundreds of remodeling projects,  it is not about numbers – it is about each and every client.
I live in Junius Heights with my sweet GSP, Birdie. I absolutely love our historical neighborhood.